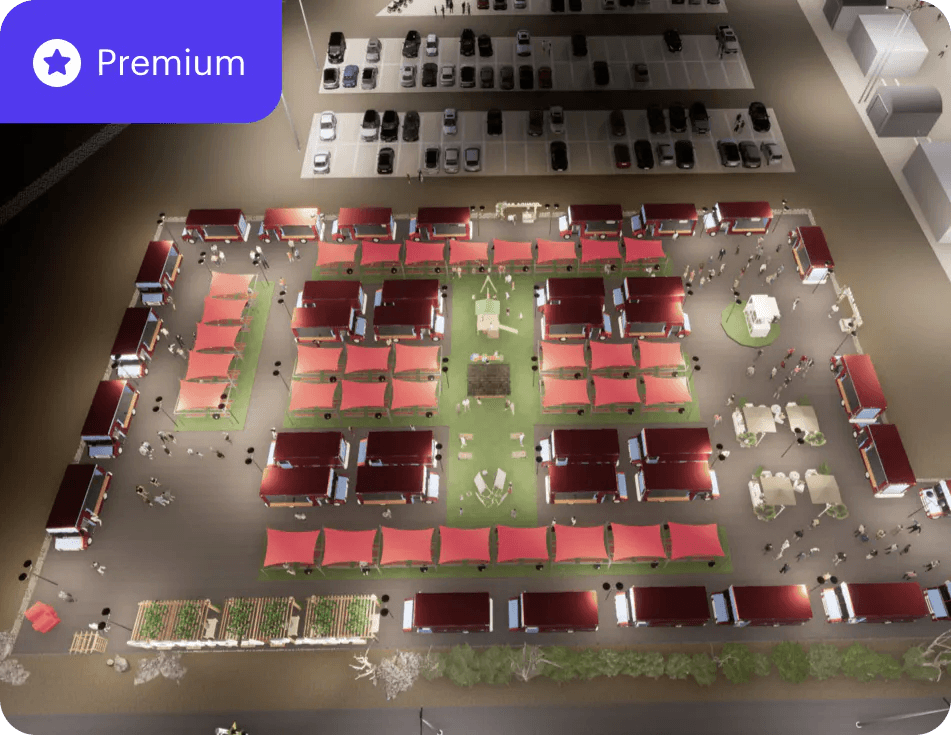 Join Comida Park – A food truck collective
Located at Tanque Verde Swap Meet, guests can shop, then grab some of their favorite food and beverages from the food trucks, enjoy some music and connect with the community, all in one location. The park will be open seven days a week, provide regular live entertainment, and can host over 30 food trucks.
Fantastic food truck south of SF in Burlingame
Food truck space at a highly popular gas station in Burlingame, CA. Location doesn't get better than this! Near BART, off freeway, etc. Rent is for monthly rental fee, gas station is open 24/7. Due to local code trucks can only be parked for 2 consecutive days at a time. Pricing can be adjusted based on frequency you'd like to be parked per week. Inquire for more information!
Join the rotation at our amazing food park
SPARK Social SF is a food truck park, beer & sangria garden, and event space located in the heart of San Francisco's Mission Bay neighborhood. We collaborate with 150+ unique street food vendors to create a different dining experience every single day.
Join our Latin cuisine food cart lot
Roseland is home to the largest Latino population in Santa Rosa. The heart of this neighborhood will be home to the first Mexican Food Park in SoCo. You'll be surprised to find guests from other corners of the world, including Asian, African, European, South American food. Let it roll!
Food truck space available in Aurora, Colorado
New location available along busy road in Aurora. Perfect for a food truck looking for full time location with high traffic. Fully stacked with amenities you'll need. Water Hookups; Electricity Hookups; Seating; and guest Bathrooms. New fency also going up. Contact for up-to date photos and details.
Join Á La Cart, Our Orlando Florida Food Truck Park
A La Cart features features an open-air pavilion which provides guests with covered indoor seating and an outdoor courtyard to dine under the stars. The bar inside has 15 taps featuring a rotating lineup of beers, ciders, wines, and cold-coffee. A La Cart is open seven days a week for lunch and dinner.
Little Havana Food truck location for Thurs, Fri & Sat!
Excellent location in Little Havana in Miami. Very busy intersection with a residential area nearby as well as a tourist area nearby. Commit to Thursday, Friday and Saturdays and keep your truck mobile during the week! First month free for the right tenant and $500/month after.
Weekday food trucks needed in downtown Coral Gables
Commercial offices needing a permanent lunch food option. The idea is to locate the food truck taking two parkings on the ground floor of the building next to a deck we have with chairs and tables for customers. Ideally your truck can offer a wide array of options to offer some daily variety.
Single food truck parking for rent in Sanford
Frontage space available in self serve car wash on busy main road. Food truck with cooked food preferred with daytime hours when traffic is plenty. Water Hookups, Electricity Hookups, and customer seating available.
Lakemont, Georgia food park location on busy road!
BUSY Highway 441 in Lakemont, GA between Clayton and Tallulah Falls! Looking to add a food truck at the entrance, near existing tiny home business. Water/Electric not currently available but could be. Interested persons would need to acquire proper licensing/permit for the spot from the county.
Great location on road between Ottawa and Montreal
Food needed in area! Enjoy front road access to 20,000+ commuters on a main highway between Ottowa and Montreal. Location is at a corner of Highway 17 and County Road 15 (the cross road comes directly from the Ferry people take from Quebec to Ontario). Campsites nearby.
Openings available at Cartside!
Cartside is a brand-new food cart pod located in the historic Williams District. Situated a few blocks north of the Rose Quarter, Cartside is just a short walk or bike ride from some of Portland's most popular entertainment destinations, including the Moda Center, Lloyd Center, and Oregon Convention Center.
Food cart lot available in Multnomah Village
Since its official opening the French Quarter has become known for it's outstanding food carts, amazing produce stand and unique and vibrant boutiques. It is a place where people can gather and feel a sense of community. In a nutshell, the French Quarter was created by a family for families.
Spots available at Eastport Food Cart Lot
Join our massive food cart pod lot in southeast Portland along 82nd. Among the many perks of our lot you'll also find high customer traffic and the perk of utilities included in your rent! Covered and heated seating areas means year-round diners. Rent covers all utilities!
Two openings at The Bite Of Newberg Food Park
We have two openings at The Bite of Newberg just outside of Portland. High traffic food park, great guest amenities and affordable rent for operators. The openings will go fast! Rent covers all utilities!
Food Park and Beer Garden Opening at Piknik
Located in the heart of the Sellwood neighborhood in SE Portland, next to New Seasons Market and near a host of local businesses, Piknik Park proudly brings you a unique variety of quality food. As envisioned by its owners, Piknik Park is a neighborhood spot welcome to all, included pets!
Openings at the Yard Food Trucks at Montavilla
Multiple openings available at the Yard at Montavilla, a food cart pod in the heart of Portland, Oregon's Montavilla neighborhood. Join taste-filled eats, drinks, and bites from around the world with a unique outdoor atmosphere. Guests can enjoy covered seating.
Park your cart at Park The Carts!
This is your one-stop destination for the best NW cuisine in Portland. Conveniently on MLK Blvd, Park the Carts offers many unique tastes in one location. From savory barbecue to sassy Thai delicacies, Park the Carts brings it to you in one fantastic place! Rent includes water, garbage, and internet!
Oregon City's best food cart location!
Community is at the heart of everything we do here! Combining our signature craft cocktail bar and 10+ food carts, we proudly serve up a uniquely Oregonian experience. Not to mention axe throwing, live music and other fun events like evenings paddle boarding on the Willamette River that draws in crowds!
Huge Food cart lot available in Southeast
We rent spaces based upon a one year lease which we find works best for you and for us. CARTLANDIA IS a fully permitted, secure, lighted fenced food cart pod with all amenities. We accept all sizes of food carts and also can have mobile carts on site. Cartlandia has been in place for 10 years.
Join Beaverton's largest food cart park!
In addition to the 30+ food carts, our pod includes a speakeasy bar with indoor/outdoor seating and a rotating tap of alcoholic and non-alcoholic beverages alike that draws in customers all day. We are proud to offer a space to showcase local vendors.
Early bird pricing to join our Gorge food cart location!
Fantastic opportunity to be one of the first tenants in a developing Corbett food truck lot just outside of Portland at the mouth of the Columbia River Gorge. Great local and through traffic during all seasons but peaks in the summer. Water available and hoping to build a unique space.